1966 Jaguar-XKE Series 1 4.2 OTS
Specifications

Stock:
J66-025
Current condition:
SHOW-DRIVER
Performance:
265 hp, 4.2, 3 SU carburetors
Transmission:
4-speed manual
Suspension:
Independent rear and front
Color exterior:
Dark Metallic Green
Color interior:
Green
Mileage:
27,204 showing
Wheels:
Chrome Wire Wheels
Brakes:
Front and Rear Disc brakes
Vin #:
1E12025
Engine #:
7E6799-9
Gearbox #:
EJ5947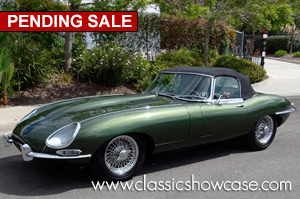 Description
This professionally restored 1966 Jaguar Series 1 E-Type comes in an attractive Dark Green Metallic exterior finish and a numbers-matching example that has been meticulously serviced and up-kept under its current owner. It has been a west-coast car since new - originally being sold in San Francisco, CA. The XKE has been tastefully modified to retain its originality, while offering many desirable updated features such as:

• Retrosound digital Stereo with aux. amp and USB ports.
• Electric retracting antenna.
• Jaguar logo rubber floor mats.
• Front end clear bra.
• Built-in battery tender port.
• 2 security systems: Revelco and Viper - each of which disable starting and more.
• The Viper security system also monitors and reports car location and battery condition, as well as enabling
  remote locking, along with the ability to send email notifications if the vehicle is moved or tampered with.
• New Avon 185-15 tires.

This Roadster is currently showing 27,000 miles since its show/driver end restoration by Jaguar specialists and has had no issues to date. It has been owned, driven regularly, and maintained by a pilot with incredible attention to detail. The interior of this E-Type sports its original, rare Jaguar seat-belts while retaining the factory upholstery color of Suede Green, as shown on its Heritage Certificate. It's exterior shows Dark Green paint with a black top, also following the Heritage Certificate and making it a beautiful color combination. The XKE has been recently serviced by our team of professionals and is ready to provide many years of enjoyment for its next collector. It's an award-winning example that needs nothing but a new driver. The car comes with many service and maintenance records along with receipts of past work performed, owner's manual, a tool kit, knock-off hammer, a jack, a car cover, and matching top boot.

The roadster has also made numerous accomplishments on the show-field, with numerous Best in Show and First Place showings at various Concours events in the Central and Southern California regions including:

• First Place in Class at the Huntington Beach Concours d'Elegance in June 2017.
• First Place in Class at the The Palos Verdes Concours d'Elegance in October 2017.
• Best in Show at the Central Coast British Car Club's 28th British Car Show in Oxnard, CA in July 2018.
• Best in Show at Parkview Village Shop's Classic Car & Truck Show in Long Beach, CA in August 2018.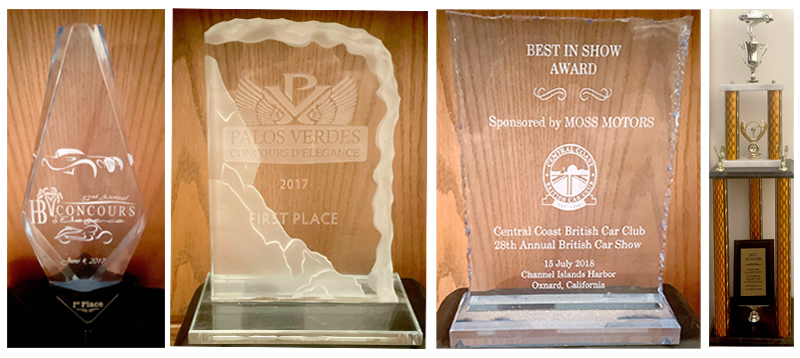 History
The series I 4.2 is the most user friendly, best driver, and most collectable of the E-Types. These wonderful cars had a 4.2 liter engine with 3SU Carburetors and a fully synchronized transmission. Some of the features of this model are covered headlights, toggle switches, full instrumentation with styling and design that was way ahead of its time, center console, arm rests, and fully synchronized transmission.
Authenticity