1959 Jaguar XKSS 3.4 OTS
Specifications

Stock:
J59-910
Current condition:
UNDER RESTORATION
Performance:
3,442cc DOHC inline 6-cylinder engine
Performance options:
45 DC Weber carbs
Transmission:
Tremec T-5 5-speed manual transmission
Suspension:
Independent Front and Rear
Color exterior:
British Racing Green & Silver
Color interior:
Tan
Mileage:
approximately 100 test miles after restoration
Wheels:
Dunlop peg-style alloy racing wheels
Tires:
205/70/R15
Brakes:
Wilwood Brakes
Vin #:
S835910BW
Engine #:
62536-8S
Gearbox #:
96065-456
Other 1:
Body Number: J9624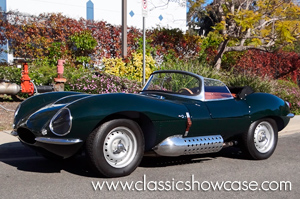 Description
Classic Showcase is pleased to announce our latest exciting and unique Jaguar build…a faithful re-creation of one of Jaguar's rarest models ever produced – the XKSS. This sports car is for the collector seeking a very unique model with incredible Jaguar history in extremely limited production numbers.

We started the journey by acquiring (2) XKSS alloy bodies from a true craftsmen panel builder who fabricates state-of-the-art vehicles. Our team will be creating the first car as an in-house "demo" for Classic Showcase, and we have a second one to offer to collectors. The person that commissions our team for the second build may select their color combo of choice, as well as other options. We have chosen a great color combination for our demo of Jaguar British Racing Green and Silver, sure to provide a great contrast. The interior color will be Tan, and we are creating the seats, console, panels, top, and Tonneau to be just like the originals. All of the materials we are using for the build are Jaguar materials.

The XKSS will be powered by a Jaguar XK-140 MC 3.4 liter red-head twin cam engine. The head and block match, and it will also feature: Weber carbs, a spin-on oil filter, an alloy finned radiator with auxiliary fan, a gear reduction starter, Tremec T-5 5-speed transmission, a custom made and balanced driveshaft, a rebuilt early 1961 E-Type rear end, early Series 1 E-Type front suspension, adjustable front and rear shocks, Wilwood brakes, and original Dunlop peg-style alloy racing wheels with 3-eared knock-offs. The instrumentation is period-correct Smiths, which includes all of the proper British knobs and switches to give it a great look, along with a D-Type 3 spoke steering wheel, battery cut-off switch, and 1-2-3 electronic ignition. The exhaust system starts with Classic Fabs custom-made headers, along with a stainless pipe and muffler coming out on the side of the car. The gas tank is aluminum and includes a speed fill.

Please stay tuned to this page, as well as our quarterly newsletter for timely updates to this exciting and highly unique re-imagining of a classic and rare Jaguar sports car!


Videos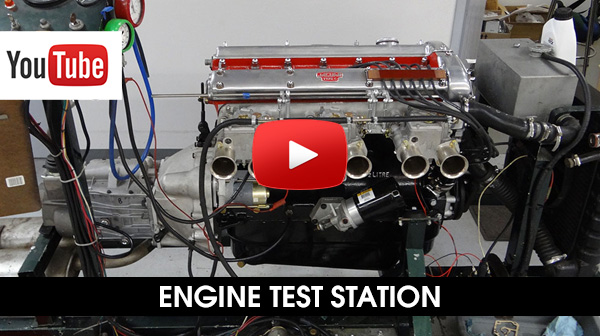 History
Hollywood acting legend Steve McQueen posing in his XKSS in the late 1960s: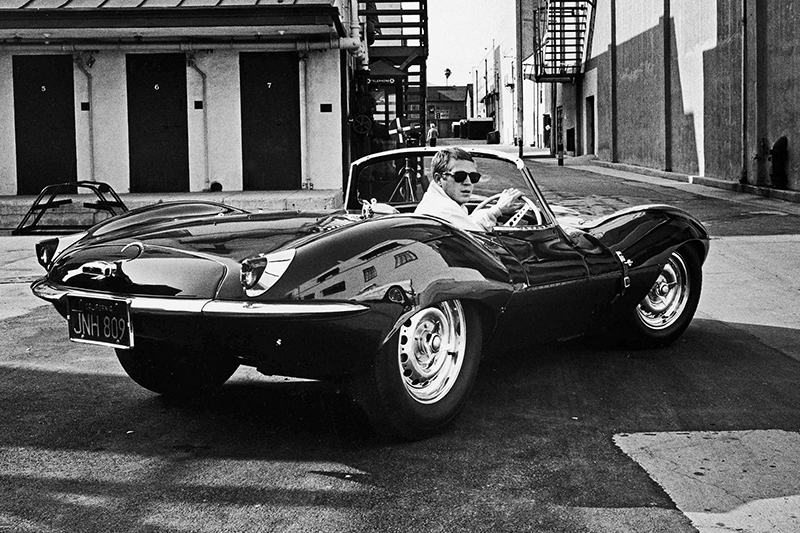 The Jaguar XKSS is a road-going version of the racing car, initially built in 1957. Only 16 were built and sold at the time. Nine were destroyed in a factory fire in 1957. In 2016 Jaguar announced that a small production run of nine "continuation" XKSS reproductions would be hand-built to the original specifications to complete the originally scheduled run of 25. Following 's withdrawal from competition at the end of the 1956 season, a number of completed and partly completed remained unsold at the Browns Lane factory. In an attempt to recoup some of the investment made in building these unused , and to exploit the lucrative American market for high-performance European sports cars, decided to convert a number to road-going specification. Only minor changes were made to the basic D-type structure: the addition of a passenger side door; the removal of the large fin behind the driver; and the removal of the divider between passenger and driver seats. In addition, changes were made for cosmetic, comfort and legal reasons: a full-width, chrome-surrounded windscreen was added; sidescreens were added to both driver and passenger doors; a rudimentary, folding, fabric roof was added for weather protection; chromed bumpers were added front and rear (a styling cue later used on the ); rear light clusters were mounted higher on the wings; and thin chrome strips were added to the edges of the front light fairings. By early 1957 a total of 16 of the planned production run of 25 XKSS's had been completed at Jaguar's plant. On the evening of 12 February a fire broke out, destroying the remaining nine in mid-production. All of the destroyed vehicles had been destined for North America. Most of the previously built 16 XKSSs were also sold in the US.