1961 Jaguar-XKE Series 1 3.8 OTS
Outside Bonnet Latch
Specifications

Stock:
J61-360
Current condition:
UNDER RESTORATION
Color exterior:
British Racing Green
Color interior:
Biscuit with Tan Top
Mileage:
76,943
Vin #:
875360
Engine #:
R1493-9
Gearbox #:
EB599JS
Other 1:
Body Number: R1318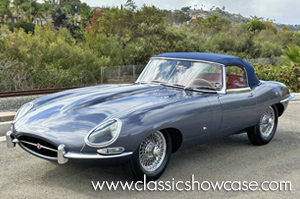 Description
October 23, 2018 Update: Please note this E-Type is under restoration to that of a Show level - If you are interested in purchasing this Roadster and desire a certain color combination, please contact us ASAP so we may accommodate you before we begin bodywork on the vehicle.

Classic Showcase is pleased to announce the arrival of this first first-generation E-Type, numbered 360 in the first-year production run, which exhibits all the early sought-after features like flat floors, welded louvers, and outside bonnet latches, among other notable features. The team at Classic Showcase is excited to start restoring such a rare, unique piece of Jaguar history, and will perform a rotisserie-restoration back to factory standards and elevate the car to a high level of Show-worthy standards.

Included in the restoration process, the vehicle will be completely dissembled, and the interior will be removed and documented, the body will be stripped to bare metal and placed on a rotisserie, then the body will be worked, metal finished, fitted, and leaded as needed, and all body parts and chrome will be fitted to the E-type in bare metal; It will be primered, sealed, have a base coat and clear coat applied, and then color sanded and buffed to a beautiful finish. All body parts will be painted off the car separately.

All systems will have been gone through and be restored, or replaced, as necessary. The transmission, clutch, and hydraulic systems will be fully restored, or replaced, and the car will receive all new rubber, grommets and seals. In addition, the britework will be fitted, and re-plated to Show level quality. The car will receive all new upholstery, which will be fitted and installed in the correct materials by master upholsterers in our Upholstery Department. The Roadster's parts and components will be restored in the proper colors and finishes as well, and NOS parts will be used wherever possible. Extreme attention to detail will be given because of the importance of this early, highly original E-type.

An MP4 video file of the restoration process, along with a Heritage Certificate of Authenticity will accompany the vehicle. This first generation XKE will be a truly amazing nut and bolt restoration and will be ready to cause a collector and enthusiast sensation at future Concours events; truly for the discerning Jaguar collector demanding the best!
History
The Series 1 Jaguar XKE was introduced, initially for export only, in March 1961. The domestic market launch came four months later in July 1961. The cars at this time used the triple SU carbureted 3.8 liter 6-cylinder Jaguar XK6 engine from the XK150S. The first 300 cars built had flat floors and external hood (bonnet) latches. These cars are rare and more valuable. The outside bonnet latch is the most sought after of all the Series I E types. Only 500 external bonnet latch cars were made, of those, 385 were left-hand drive roadsters, 20 left hand drive coupes, 91 right hand drive roadsters, and 4 right-hand drive coupes. After that, the floors were dished to provide more leg room and the twin hood latches moved to inside the car.