1961 Jaguar-XKE Series 1 3.8 OTS
Outside Bonnet Latch
Specifications

Stock:
J61-360
Current condition:
UNDER RESTORATION
Performance:
3.8 Liter, 6 cylinder, 3 SU carbs
Transmission:
4 speed manual
Suspension:
Independent (front and rear)
Color exterior:
will be Opalescent Dark Blue
Color interior:
will be Red with a Dark Blue Top and Boot
Mileage:
will have 100 test miles
Wheels:
Chrome Wire Wheels
Vin #:
875360
Engine #:
R1493-9
Gearbox #:
EB599JS
Other 1:
Body Number: R1318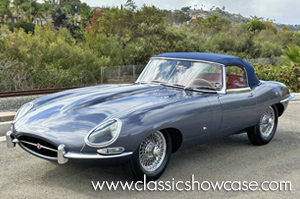 Description
This rare numbers-matching 1961 first-generation E-Type roadster with outside bonnet latches has just recently started its restoration process to that of our highest show-level possible. These early outside bonnet latch examples are getting increasingly harder to find with the passage of time, so needless to say we jumped at the opportunity to acquire such a special classic Jaguar such as this! This particular roadster is numbered 360 in early E-type production history and includes all of the most sought-after features that collectors look for like flat floors, welded louvers, and outside bonnet latches. The XKE held long-term ownership by a family who routinely drove the car for a number of years before letting it rest in a climate-controlled facility. Classic Showcase was elated to find an example such as this for sale and purchased it with the intention of restoring it back to its original glory. Our team then quickly got to work after acquiring the roadster, starting the restoration process by first documenting the entire car with detailed photos before starting the disassembly process.

As with all of our early E-Type show-level restorations, strictest attention to detail is being given due to the importance of this early, highly original car. This example has proven to be a great core car for a show-level restoration, and our team has been elated to have the opportunity to restore another important piece of Jaguar motor history. The E-Type has been scheduled to be restored to its original colors of Opalescent Dark Blue with a Red interior per its JDHT certificate and is sure to deliver an amazing look when complete! While the restoration process has already begun, there is still time to choose black or white wall styled tires; our team has planned on installing a radio delete plate to the car, but there is plenty of time to use a stereo and/or sound system options of your liking – please contact us soon for more information!

Included in this restoration process of this Outside Bonnet Latch Roadster: a complete, fully documented vehicle disassembly, with the vehicle body fully worked, metal finished, fitted, and leaded as needed, with all body parts and chrome fitted to the car; It will then be primed, sealed, and have a base coat applied along with receiving a clear coat, and finally color sanded and buffed to a beautiful finish. All major systems will be gone through and be restored and/or replaced where necessary. The engine, transmission, clutch, and hydraulic systems are scheduled for full restoration, and the E-Type will be receiving all new rubber, grommets, and seals. The XKE's upholstery is also in the early stages of being completely restored by our master trimmer in its of original color of Red. The roadster's parts and components will also be restored in the proper colors and finishes as well, using the finest NOS parts available wherever possible.

An MP4 video of the restoration process, along with a Heritage Certificate of Authenticity will accompany the sale of the vehicle. This first generation XKE is sure to delight those looking for a formidable, rare classic Jaguar example to compete in Concours events, or to collect as a Blue-Chip investment. Own the best, drive the best, and experience the excitement that only a first-generation E-Type restored by Classic Showcase can deliver! Please note the car pictured in the small thumbnail image above is not the actual car being restored and made available for purchase - it is merely an example of a 1961 we previously restored that features the same color combination..Please stay tuned to this page for restoration updates on this E-Type!

A nice period photo of the XKE with it's original owner (and canine friend) posing on the coast: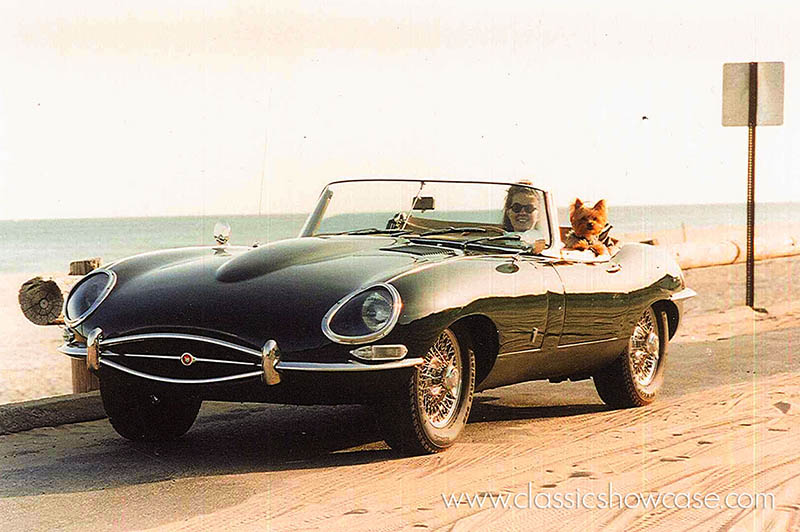 History
The Series 1 Jaguar XKE was introduced, initially for export only, in March 1961. The domestic market launch came four months later in July 1961. The cars at this time used the triple SU carbureted 3.8 liter 6-cylinder Jaguar XK6 engine from the XK150S. The first 300 cars built had flat floors and external hood (bonnet) latches. These cars are rare and more valuable. The outside bonnet latch is the most sought after of all the Series I E types. Only 500 external bonnet latch cars were made, of those, 385 were left-hand drive roadsters, 20 left hand drive coupes, 91 right hand drive roadsters, and 4 right-hand drive coupes. After that, the floors were dished to provide more leg room and the twin hood latches moved to inside the car.
Authenticity