1972 Porsche 914-6 GT
Specifications

Stock:
P72-292
Current condition:
UNDER RESTORATION
Performance:
2.2-liter 6-cylinder
Transmission:
5-speed Porsche 901 Sideshift transmission
Color exterior:
Shark Blue
Color interior:
Black
Features:
Blaupunkt Frankfurt AM/FM stereo (with hidden amp and Bluetooth/Wireless connectivity)
Wheels:
Fuchs Turbo Wheels
Brakes:
Bilstein Brakes
Vin #:
4722919292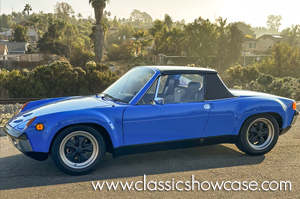 Description
Classic Showcase is pleased to announce a fantastic new show-level restoration of this 2-owner from new 4-cylinder 1972 Porsche 914 to a 2.2-liter 6-cylinder 914-6 with GT Flares. This performance-minded restoration will feature welded-on metal flares all the way around, as well as a rebuilt Porsche 911 T engine, a 5-speed Porsche 901 Sideshift transmission, and a host of other mechanical and aesthetic upgrades. This is sure to be a one of a kind of 914-6 example that will not only have an awesome and unique look, but with unmatched performance as well!

We started the process by carefully disassembling the Porsche and cataloging all parts and components before stripping it down to bare metal. The team chose a modern Porsche color unveiled in 2021 called "Shark Blue" for this 914-6, and decided to retain the car's stock Black interior color. All of the bodywork has been completed, and the team is in the process of wet-sanding and buffing the Porsche before beginning the assembly stage of the restoration.

The 914-6 will also be the recipient of a number of impressive mechanical upgrades, including a full conversion from a 4-cylinder layout to that of a 6; The conversion will require a number of adjustments made to our usual restoration process, but the team loves a challenge and has already made great progress in this endeavor. We sourced and acquired an engine from a 911 T example and will mate it with a 5-speed Porsche 901 Sideshift transmission, clutch system, and resurfaced flywheel. In addition, the Porsche will feature Weber carburetors, a new wire harness, 914-6 oil tank with custom lines, engine mounts, and new sheet metal throughout. To accommodate the increased power, the hydraulic system is in the process of being performance upgraded with disc brakes and larger rotors to help accommodate better braking response. The Porsche will rest atop a set of 5-lug period-correct Fuchs Turbo wheels mounted on a fresh set of new period-correct tires that will be great for the track, as well as your favorite weekend drive.

The Porsche's interior is being restored as well, and restorative work is underway on all aspects of the car. The instruments are in the process of being rebuilt, as is a 914-6 speedometer and tachometer that is being sourced and will be installed; While the interior will remain mostly stock, it will feature sound deadening to reduce the noise and heat for an improved driving experience. A Blaupunkt "Frankfurt" AM-FM push-button stereo system, along with a hidden amplifier with Bluetooth and Wireless connectivity will be installed as well, so you the driver can enjoy your favorite music as well as other functions on your smartphone as you are enjoying the Porsche.

Once completed, this 1972 Porsche 914-6 GT is sure to turn heads both on and off the track. Its unique blend of classic Porsche styling with modern updates will truly make it a one-of-a-kind machine. With its powerful engine, upgraded GT Flared stylings, and other performance enhancements, this car stands to be one of the most unique 914 configurations on the road today. Whether you're a Porsche enthusiast or a seasoned collector simply looking for a stylish and high-performance car to add to your collection, this 914-6 is sure to exceed your expectations upon completion! Stay tuned to this page for future updates on this very exciting, modified Porsche restoration!
History
The Porsche 914 was introduced in September 1969 as a collaborative effort between Porsche and Volkswagen to produce a sporty car. The car they came up with was a mid-engined vehicle with seating for two and featured a Targa top. A 4-cylinder boxer engine provided the power. Volkswagen needed a vehicle to replace the aging Karmann-Ghia while Porsche was looking for another option to add to their lineup. The car sits low and the suspension was a combination of a 911-type torsion bar front suspension with a rear coil spring suspension. The headlights hide in the hood and pop-up when needed. The Targa top can be stored in the trunk.